After commencing his role as Clerk of the Course in the late 1970's, respected Westbury horseman David Mace will officiate his last race meeting in Launceston on Friday evening, just 13-days after celebrating his 80th birthday.
Despite his age Mace, in his true horsemanship style has put his horse first, the former thoroughbred racehorse My Son Steven who is close to 30-years-old according to Mace.
"Within myself I feel like I can do the job for another 10 years, just old Steven (his horse) is getting on a bit in age, and although he still loves going to the races I feel like it's the right time for him to finish up," Mace said in the lead up to his final meeting.
Tasmanian-born Mace spent a number of his early years on mainland Australia.
"I was born in Launceston but the family moved to Carlton in Victoria when I was five. A few years later we moved down to Dandenong, where we lived down the road from trainer Jack Barron, and I was at his stables every day before and after school," Mace recalled
"I was very much a part of their family and I went to work there when I finished school, but he got suspended for 12 months at the same time my parents moved back to Tasmania when I was about 20 years of age," the horseman recalled.
Mace did venture back to Jack Barron's for a short period of time where he recalled a story about getting chased up for National Service.
"A couple of fellas arrived at Jack's place one morning. I had a horse in the cart, two tied up on the side and a horse in each hand about to go out and do a jog trip. These guys said we need you out in the car. So, I went to the car and they said you haven't applied for National Service. I told them I have been waiting for you guys to tell me when to go …… it just fell out of my mouth at the time, I didn't know what to say. I got on the plane the next day and they were at the airport waiting for me and they took me straight to the camp at Brighton so they wasted no time with me," Mace laughed when retelling the story.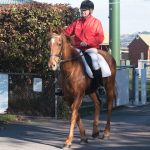 Despite many years of filling the role as Clerk of the Course across many of the Tasmanian harness racing tracks, Mace has also been a successful trainer, a driver (till 1985) and still continues to break in the odd horse or two.
"I have just finished breaking in three yearlings, my daughter Toni keeps asking why I do them but when you get to do something you enjoy doing well why not do it," Mace said.
Some of the best horses Mace has trained include Barlow, San Eltryn, Royal Zamach and in more recent times Our Last Knight and Sarah Lewis.
Mace has been fortunate enough to work at the last three Inter Dominions held in Tasmania in 1981, 1998 and 2006
"The Inter Dominions were terrific to work at, you get to work and handle the best horses and work with the best drivers and it was an honour to be a part of them."
His efforts during the 1981 Inter Dominion at the Royal Hobart Showgrounds when he had to capture the driverless Michael Frost received high praise from officials across Australasia that were in attendance. It also saw him offered a job by Ray Murrihy to take up the number one Clerk of the course role in Sydney which Mace knocked back.
"Ray tried his hardest to get me to go there, he begged so hard I could have near got anything to go up there but I had to put my family first at that time," Mace said
Family has played a big part for Mace and he has been able to see two of his grandchildren become successful in the sulky. Josh Mace had a number of winners in the sulky and headed across to work at the stables of Peter Manning before finding employment outside of the industry. Mace's other grandson to hit the track is Jack Laugher, who won last season's junior driver title in Tasmania. Jack, who has spent the past season in Victoria, is getting a number of drives for some of the biggest stables in that state.
"I think Jack is a champion driver because he won on my horse Rainbow Phoenix back in December," Mace grinned before he recalled a number of Jack's wins in the past month with every detail of the race.
So, what is the key to being a long-serving Clerk of the Course? Well according to Mace it is simply 'use your eyes'.
"You have to be observant, you are always looking for things like a horse with its tongue over the bit or a hopple shortener pin out and things like that but I will never forget the day a horse turned up at the start with its knee boots on the wrong way and it took me nearly five minutes to convince the driver that they were on wrong," the horseman recalled.
"There are always times in racing where someone may have a grudge against someone but when you blow the whistle in the stables until you come back after the race you have to treat everyone equal, whether it's Chris Alford or a driver just starting out and I believe I have treated them all with the same level of respect," something many participants will echo.
While there have been many falls and loose horses to capture there have been many races where Mace has been able to capture those horses to avoid more trouble and more importantly allowed the race to be completed allowing, trainers, drivers, owners and punters the chance to earn some money.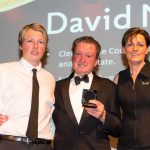 In 2016 Mace was given Tasmanian harness racing's highest honour when he was awarded the Edgar Tatlow medal.
"I was sitting there in the room that night having a few drinks not really listening to what they were saying and the next thing I know they said my name, it was a big surprise and something that I was thrilled to receive," Mace said.
Mace has always taken an extra mile in the presentation of himself at some of the Launceston Pacing Club's biggest race meetings including the Easter Cup race meeting along with the Australian Derby and Championship when they have been held at Launceston.
His commitment to promoting harness racing must also not go unnoticed. At one stage he was taking one of his pacers to selected harness race meetings with fireworks being let off the sulky behind the horse.  "I even did them at the Carrick Speedway stock cars one night."
When Mace and his horse Steven walk out of the stabling area one last time on Friday night at the Mowbray Racing Centre and head back to their Westbury base what will the veteran horseman miss in his role as Clerk of the course?
"I'm going to miss the trainers, the owners and the drivers the most. What I will add is that since I have first started, all the race clubs have been wonderful and I have just loved going to the races," Mace said.
Mace will still be seen on the Tasmanian harness race tracks as he remains to have a horse in work – Rainbow Phoenix, who will contest race four on Friday night carrying David's famous Yellow and Green V racing silks.