The condition of the redeveloped Elwick thoroughbred track is exactly where Tasracing expected it to be given its past performance, the type of renovation undertaken, the poor spring weather experienced in southern Tasmania, and its age.
Further, the track is in a better position than it was at this time last year and will continue to improve. Tasracing expects that it will be at optimum condition through December and across the Summer Carnival in the New Year.
Ongoing maintenance and management practices for the Elwick track have been carried out in line with the Monteith report recommendations and with technical advice from SportsTurf, advisors to Flemington and Moonee Valley, and Strathayr.
There were some development issues identified with the track (also noted in the Monteith Report) that required a heavy renovation to be undertaken in order to place the track in a better long-term position to achieve sustainability.
All critical works carried out at the recent annual renovation have been completed to plan, and the track continues to recover well.
The maintenance program continues to be a key focus and it is regularly evaluated and audited while consulting industry experts to ensure actions remain relevant and current.
Now that temperatures are becoming a little more consistent and stable, the root system is developing as anticipated and this will provide improved turf anchorage moving forward.
The track has been inspected regularly by Tasracing, the Office of Racing Integrity (ORI), the Tasmania Racing Club (TRC), trainers and jockeys. All are of the view that it is safe.
We have already seen an improvement between the 20 October race meeting and 2 November meeting, and expect to see further significant improvement for the 14 November meeting. While there will still be some kick-back, this should be much less than the last meeting.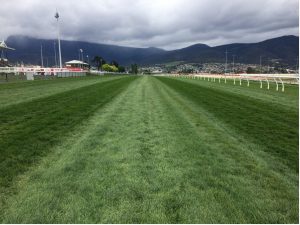 (The Elwick thoroughbred track on 12 November 2021)
The Sunday meeting at Hobart highlights the first 2YO Race of the 2021/22 season as well as the $30k Goodwood Handicap. The 2YO field includes horses from Hobart, Launceston and Devonport with nine of the 11 starters eligible for the $20k Tasbred Bonus.
Seven races are scheduled with 85 horses accepted for the meeting (including emergencies) with the rail out +5m entire.
The Goodwood Handicap is the traditional lead-up to the recently increased Listed $125k Tasmanian Newmarket on December 1st at Launceston. The race features multiple Group and Listed Winners, a Two Time Singapore Champion Sprinter and a number of quality up and coming horses.
Trainers from across the state are represented with one-third of the acceptors from Launceston and Devonport.