Hannah Van dongen and Samantha Gangell will represent Tasmania in the Australian Female Drivers Championships at Albion Park in Queensland on March 9.
Hannah and Samantha have both enjoyed sensational seasons in the sulky, Hannah sitting on top of the Tasmanian Leading Female Drivers table with 12 victories while Samantha is hot in pursuit on nine wins.
The young stars will take on the leading female drivers from around the nation led by Victorian World-record holding reinswoman Kerryn Manning.
For Samantha (feature picture – right, with Hannah Van dongen- left, and Acting Tasracing CEO Dr. Alicia Fuller – middle) to drive alongside the legendary Manning is a dream come true.
"I remember when I was six years of age (2005) and Kerryn came to Launceston to drive and I walked up to her and asked for her autograph, she smiled and asked me if wanted to be a driver one day, so to now have the opportunity to drive against her in such a prestigious series on the national scene is unbelievable," said Samantha.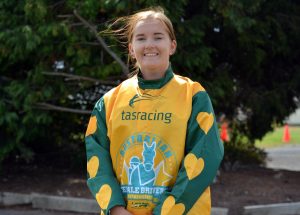 "I'm looking forward to joining Hannah in representing Tasmania, we have both enjoyed a good season to date, I've been fortunate enough to join the Ben Yole stable and that has been a great experience and it has opened up a lot of opportunities for me which I'm very thankful to Ben for."
The Series has been robbed of one of its star attractions with reigning AFDC titleholder Danielle Hill forced out of the Series after a horrific race crash at Globe Derby a fortnight ago.
Danielle dominated the inaugural staging of the Championship in Launceston last year winning five of the nine races decided.
Two of the leading lights in Queensland Kylie Rasmussen and Narissa McCarthy will represent the home state while KerryAnn Turner and Ellen Rixon will fly the colours of New South Wales.
Kerryn Manning and Kima Frenning will mount the Victorian challenge with Lisa Ryan and Kaela Hryhorec will attempt to defend the title won by fellow South Australian Danielle Hill, while West Australian's Madeline Young and Emily Suvaljko will make the long trek to Albion Park.
The Australian Female Drivers Championship forms part of the Team Teal Campaign, which aims to raise funds for the Women's Cancer Foundation.