Team Teal reinswomen will race to raise awareness and
much needed funds for ovarian cancer research.
1st FEBRUARY TO 14th MARCH 2021
---
---
From Duncan John McPherson:
On behalf of WomenCan and ANZGOG, I welcome you to 12th annual Team Teal campaign. Both on and off the track, we strive to raise awareness of Ovarian Cancer across the broader community and raise much-needed funds in support of the Survivors Teaching Students program to provide a greater understanding of the disease to medical students and ANZGOG's research nurses, caring for women in newly established clinical trial sites.
As a family, we tragically lost our beloved wife and mother Lynette Mary McPherson to Ovarian Cancer on 8th March 2010 following her diagnosis on New Year's Eve in 2008. During her battle with the disease, Lyn commenced fundraising and awareness. Team Teal sees the continuation of the vision she had which was to "Make a Difference" and improve the outcome of women's health.
Harness Racing is one of the very few sports where women have an equal standing and participation rate to men – a unique opportunity for both genders to "take the reins" and put Ovarian Cancer in front at the finish line. This campaign, we will see more than 260 Team Teal female drivers and 160
Teal Tots, our drivers of the future, throughout Australia and New Zealand raising awareness of Ovarian Cancer by wearing their Teal Pants on the track for a 6 week period from 1st February to 14th March 2021.
This coincides with February being National Ovarian Cancer Awareness month and, as such, provides a unique alignment to the colour teal which is the specific colour associated with Ovarian Cancer globally.
With the support of Harness Racing Australia and Harness Racing New Zealand, the State bodies, the various betting agencies, sponsors and supporters, it is hoped that Team Teal will once again register in excess of 400 winners on the racetrack over the 6 week period raising in excess of $140k plus additional fundraising undertaken for WomenCan and ANZGOG.
There is little doubt that the "Team Teal" participants in our industry have embraced all aspects of the awareness campaign. They continue to broaden the promotion of the campaign and do so with excitement, grace, dignity, distinction and success. They wear their teal pants and ambassadorial race silks with pride knowing that they are raising funds and awareness of the disease to the broader community.
As an industry we are "Making a Difference" for both now and for generations to come, to the outcome of women's health in Australasia in the battle against a disease which currently has no effective vaccine, early detection test or screening program – a disease which claims 2 out of 3 women diagnosed with ovarian cancer.
I pass on my personal thanks to Team Teal co-founders Michael Taranto and Jim Connelly and to all participants in the Harness Racing industry in Australia and New Zealand who have supported and continued to develop and expose the Team Teal concept since its inception, and for inspiring my children Hamish, Thomas and Tess, and myself, to continue to raise awareness of Ovarian Cancer in memory of their mother, my late wife Lyn.
On behalf of WomenCan and ANZGOG, congratulations and thank you for your support.
#GetRealSupportTeal
Meet Tasmania's Representatives
Samantha Gangell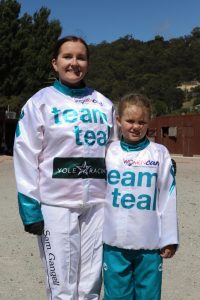 The Tasmanian Team Teal ambassador for 2021 is Samantha Gangell.
Sam is a 22 year old part time trainer/driver.
Currently Sam has a small team of three that she trains and attempts to drive at every meeting for the Ben Yole stable.
When she is not in the sulky or stables, Sam works in admin, completing a traineeship for a certificate III in business. Sam completed three years at university studying Psychology, however opted for a career change.
Horses and work are pretty much it for Sam. Having always been very passionate about the horse industry and above all, always loving horses. Sam is looking forward to her continued involvement in the industry in the future.
Lauren Rattray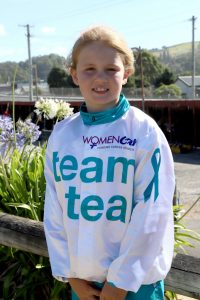 The Team Teal Mini Trot ambassador for 2021 is Lauren Rattray. Lauren started mini trots three years ago after following her older brother Jackson into it.
Lauren has been around horses all her life. Daughter of Gareth Rattray and Melissa Maine, Gareth has 11 premiership titles under his belt in Tasmania and owns Faithful Park Stud, with his wife Melissa. It is fair to say that harness racing is in her blood.
Kenzie Rattray, her younger sister, has also just started mini trots at the age of 5. Lauren is such a bright and lovely young lady and has a passion for horses whether it's mini trots or going to local shows.
Her dream is one day to be a champion driver like her father, grandfather and uncles.
Lauren's grandparents Tim and Susan Maine give her and her brother and sister great support by taking them to the races and shows helping them as much as they can.