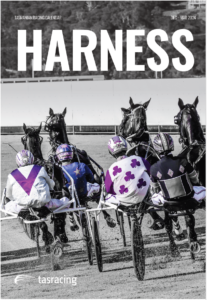 Harness Programs – December 2023 [PDF]
Harness Programs – January to March 2024 [PDF]
Tri-code full year calendar 2023/24 [PDF]
*Race Programming details advertised in the Harness Calendar are considered correct at the time of publishing. Please refer to Harness.org for updated programs.
For programme amendment information click 
Launceston Saturday 21st October 2023 – LNC21102302 Free For All 2200m $12,000, transferred to
Hobart Sunday 22nd October – EHC22102307 Free For All 2090m PBD/SEX/LT$ $12,000
Launceston – Sunday 27th August 2023
LNC27082309 Discretionary 2200m $12,000, amended to 1680m MS PBD/LT$ $20,000 GOLDEN MILE
Media Release – April – July 2023 Programs & Feature Events
Media Release – 'Tasbred Selected First' – 1 April 2021
Racing Information
PROGRAMME ABBREVIATION '3C' – 3YO Concession – ORI Handicapping Schedule
11.3 3YO Concession
If stipulated in a race a 3YO is entitled to a concession of upto eight (8) points to be deducted from its rating points no lower than the front rating of the race.
NB: The 3YO concession cannot be used in conjunction with a Driver or Mares concession.
Standing Starts – Australian Handicapping Rules
2.3 Automatic Handicap Race
A standing start race in which 5 rating points incrementally equates to 10 metres, e.g., if horses rated 50 start from the Front, 55 from 10 metres, etc.       
ORI – Harness Handicapping Schedule & Procedures
11. CONCESSIONS
      DUAL CONCESSIONS
11.1.4 A Filly or Mare Concession may be used in conjunction with a Driver Concession for
rating races with a front of 55 or better, where programmed. The minimum rating
utilising a dual claim cannot be less than NR55.                
Race Conditions

PRIZEMONEY DISTRIBUTION – Effective 1 January 2022
Race Dates
DHRC transferred meeting information 2023/24 [PDF]
Harness race dates 2023/24 [PDF]
Tri-code full year calendar 2022/23 [PDF]
Feature Events
Harness Events January – July 2024 [PDF]
Harness Evens 2023/24 [PDF]
Trial Dates
Harness Trial Dates 2023/24 [PDF]
Qualifying Trials [PDF]
Track Records
Harness track records: