Samantha Gangell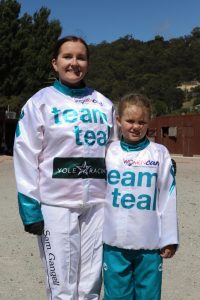 The Tasmanian Team Teal ambassador for 2021 is Samantha Gangell.
Sam is a 22 year old part time trainer/driver. 
Currently Sam has a small team of three that she trains and attempts to drive at every meeting for the Ben Yole stable. 
When she is not in the sulky or stables, Sam works in admin, completing a traineeship for a certificate III in business. Sam completed three years at university studying Psychology, however opted for a career change. 
Horses and work are pretty much it for Sam. Having always been very passionate about the horse industry and above all, always loving horses. Sam is looking forward to her continued involvement in the industry in the future.
Lauren Rattray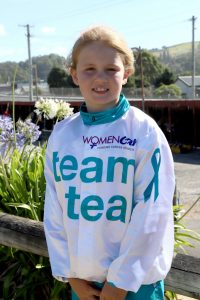 The Team Teal Mini Trot ambassador for 2021 is Lauren Rattray. Lauren started mini trots three years ago after following her older brother Jackson into it.
Lauren has been around horses all her life.  Daughter of Gareth Rattray and Melissa Maine, Gareth has 11 premiership titles under his belt in Tasmania and owns Faithful Park Stud, with his wife Melissa. It is fair to say that harness racing is in her blood.
Kenzie Rattray, her younger sister, has also just started mini trots at the age of 5. Lauren is such a bright and lovely young lady and has a passion for horses whether it's mini trots or going to local shows.
Her dream is one day to be a champion driver like her father, grandfather and uncles.
Lauren's grandparents Tim and Susan Maine give her and her brother and sister great support by taking them to the races and shows helping them as much as they can.