Elwick
The Elwick thoroughbred track continues to perform as expected where the track continues to show improvement as time progresses.
The overall health of the turf, the tracks' root system and growing medium continues to improve and reflects the performance of the track.
Ongoing maintenance and management practices for the Elwick track have been carried out in line with the scheduled maintenance programs as communicated & agreed with internal personnel & external consultants.
There were some development issues identified with the track (also noted in the Monteith Report) that required a heavy renovation to be undertaken in order to place the track in a better long-term position to achieve sustainability. These issues were addressed during the Spring renovation and continued to be addressed through ongoing maintenance inputs. The maintenance program continues to be a key focus and it is regularly evaluated and audited while consulting industry experts to ensure actions remain relevant and current.
Now that temperatures are stable, the root system is developing as anticipated and this will provide resilient turf anchorage moving forward.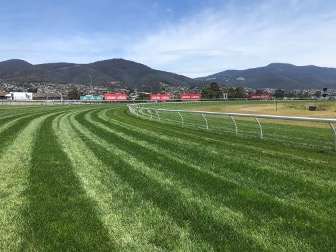 Mowbray
Mowbray has raced well for the first half of the season where weekly racing was held between October & December. In this time, the track has performed to a high standard providing a fair and unbiased racing surface giving opportunity for horses to win from both on pace and from back in the field. It is expected that Mowbray will continue to perform to a high standard for the remainder of the racing season.
The track has been renovated through the four-week scheduled break which included scarification, aeration, topdressing and overseeding. The recovery from the renovation has been good and the track presented & raced well for the first race meeting of 2022 held on January 14th.  This renovation targeted some minor ongoing challenges associated with excessive thatch levels within the track profile. There were many areas of the track where thatch levels were greater than 80mm in-depth hindering the overall performance of the track and its ability to recover post-race meetings.
At the conclusion of the Good Friday race meeting on April 15th, 2022, the track will undergo another renovation in preparation for the first winter race meeting scheduled on June 26th 2022.
Spreyton
The Spreyton Tapeta track has continued to perform well throughout recent months including the Devonport Cup race meeting. With racing currently in recess additional maintenance work is being carried out to the track. There is currently a focus on reinstating the track's profile consistency through Track renovations as they continue to be undertaken in line with the monthly schedules to de-compact the surface and blend the sand, fibre and wax together within the profile to ensure consistency and reduce kickback during racing and training.