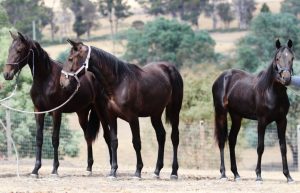 By Peter Wharton
The 2019 Tasmanian Harness Yearling Sale will be held at the Carrick Park twilight race meeting on Saturday, February 16. The sale will be preceded by a yearling parade with a prize for the best-presented yearling.
The sale features progeny by the proven sires Sportswriter, Four Starzzz Shark, Mr Feelgood, Stonebridge Scooter and Sutter Hanover and the emerging, young sire Heston Blue Chip.
Bonuses worth $5,000 will be available to sale graduates on three selected two-year-old races in the 2019/20 season. Vendors of yearlings not sold at the sale will be able to pay a late nomination fee (10% of reserve) to be eligible for the bonus races.
Furthermore, Tasracing will pay $500 for any genuine sale towards the cost of breaking in (payable onthe supply of invoice).
Pedigrees can be viewed online at www.tasracingcorporate.com.au
For a catalogue or further information contact Angela Barrett on (03) 6212 9307 or email a.barrett@tasracing.com.au