Tasmania's racing industry has rallied behind former Tasmanian thoroughbred trainer Terry Roles by tipping in over $40,000 at a fundraiser at the Tasmanian Turf Club last Saturday night.
The night was promoted as an Aussie Legends event entitled Tearing up the Turf for Terry with about 250 attending the sit-down dinner that boasted a star-studded line-up of guest speakers.
Roles was diagnosed with Motor Neuron Disease (MND) earlier this year and his deterioration has been rapid, but he was invited by former AFL footballer Neale Daniher to be one of six to take part in a trial drug program that is hoped to slow down the disease or possibly bring it to a halt.
The drug trial is expensive, which is why the industry gathered to raise money to help Roles fund the program.
Roles said he is pleased to have been given the opportunity to participate in the trial drug program.
"When you get diagnosed with this disease it is in effect a death sentence, so naturally those who have it are keen to become involved in a drug trial that has the potential to stop the disease worsening," Roles said.
"I've been on the trial drug, which comes in a liquid form and taken orally, for two weeks but I am not to expect to notice a real difference for about eight weeks.
"I am blown away by the support Tasmania's racing industry has shown to me my family.
"The funds will certainly help and it's also nice to be able to come to a function like this and watch and listen to some good light entertainment."
The crowd was entertained by former Carlton AFL coach Brendan Bolton, former race caller Greg Miles and Queensland's premier trainer Robert Heathcote, who grew up in Deloraine and attended the same school as Roles.
Heathcote was very entertaining as he spoke of his early adventures before finding his niche as a racehorse trainer.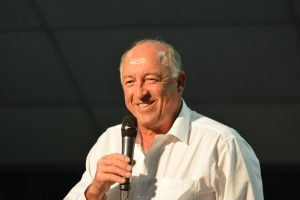 Heathcote was very entertaining as he spoke of his early adventures before finding his niche as a racehorse trainer.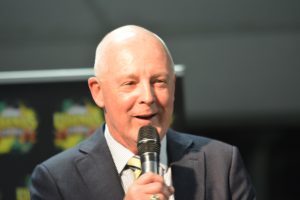 Miles reminisced about his time as a caller that encompassed 36 Melbourne Cups and some of the funnier occasions that included a very comical version of an encounter with former Tasmanian race caller Joe Brown that involved his talking budgie.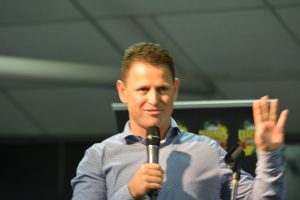 Bolton gave a warts and all account of his time in the coach's box at Carlton and spoke about the strengths individuals need to survive at the top level of the AFL.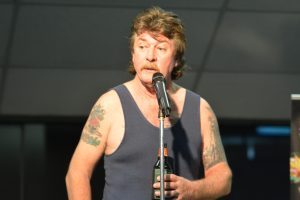 The event was compered by internationally acclaimed Australian comedian Chris "The Bloke" Franklin, who was hilarious during his 15-minute solo spot but he also was a brilliant compere.
Most of the auction items were donated apart from the framed Aussie Legends prints that held reserves with all but a couple sold on the night.
Jockey Craig Newitt kindly donated his three cups from winning the Devonport, Hobart and Launceston cups aboard Eastender last season.
They were boxed in a glassed wooden-frame cabinet and sold for $1600 and the buyers have donated the item to the Tasmanian Turf Club as a piece of cherished racing memorabilia.
Two framed montages of Tasmanian Cup Legends and Tasmanian Racing Icons put together and donated by racecourse photographer Bill Hayes, with assistance from Milton Pettit, were popular.
Former multiple premiership-winning trainer Charlie Goggin paid $500 for the Icons while the Cup Legends sold for $400.
But the biggest donation came from the Australian Trainer's Association Trust Fund that presented Roles with a cheque for $10,000.
"I am really humbled by the support the racing industry has shown to me and my family," Roles said.