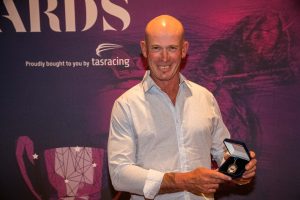 The Halwes Medal recognises an Industry Participant who has had an outstanding performance/s in the 2021 Season.
Individuals, clubs and affiliated bodies are invited to submit nominations for the 2021 Halwes Medal. Nominations should include details on specific performance/s.
 Only licensed Tasmanian participants are eligible to be nominated.
Any person disqualified for any offence during the racing season will not be eligible to win the award.
The top 3 contenders will be announced via the Tasracing website and social media after the specified closing date.
Voting will be done by guests attending the annual Harness Awards Dinner on a 3, 2, 1 process. Voting cards will be provided at the commencement of the evening with performance videos to be displayed (where available).
Tasracing will compile votes at a point to be advised on the night.
The top 3 contenders will be invited to attend the annual Harness Awards Dinner where the winner will be announced.
Nominations should be forwarded to Angela Barrett not later than Friday 18 March 2022.
Previous winners of the Halwes Medal are:
2020 – Rohan Hillier
2019 – Ben Yole
2018 – Todd Rattray
2017 – Todd Rattray
2016 – Ben Yole
2015 – Gareth Rattray
2014 – Ricky Duggan
2013 – Gareth Rattray
2012 – Gareth Rattray
Angela Barrett
(03) 6212 9307
a.barrett@tasracing.com.au