Tasracing is delighted to announce that Conor Crook and Rohan Hillier will represent Tasmania at the upcoming Australian Drivers Championship at Adelaide's Globe Derby Park on Saturday, 17 September.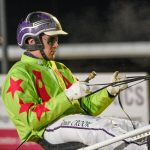 Crook, 26, claimed his first Tasmanian driver's premiership last season with a career-best 90 winners.
Originally from New South Wales, Crook is currently in Victoria furthering his career as a trainer and driver.
He has driven 41 winners this season, including the Group 3 Devonport Cup with Lip Reader and the state's premier mares race, the Group 3 George Johnson with Lavaughn. It will be his first Australian Drivers Championship series.
Hillier, 49, has over 833 winners to his credit, with the multiple Group 1 winning reinsman having a career strike rate of 15%.
Last season Hillier drove 58 winners and a further 101 placings from 360 drives and is currently fourth in this season's standings.
Hillier would have represented the state in the 2020 Australian Drivers Championship where he finished second on the state premiership the season prior, however, the series didn't go ahead due to the Covid-19 pandemic.
As per Tasracing's policy, the first two drivers on last season's premiership are selected, however, Tasracing utilised clause 4.2 which states, "Tasracing reserves the right to make the final determination in relation to any aspect of this policy" as Troy McDonald, who finished second with 72 wins, returned home to Victoria in November, and hasn't driven in a race since, with Hillier taking his position as he finished third on last season's title.
The Australian Drivers Championship will be comprised of eight races, with each driver allocated six drives on a random draw basis.
As has previously been the case, the winning driver of the championship will have the opportunity to be nominated as the Australian representative at the 2023 World Drivers' Championship that will be held in Italy.
Due to the impacts of Covid-19, this will be the first Australian Championship held since Gary Hall Jnr's win in Hobart in 2019, where Mark Yole delivered the state's best result in the series since it commenced in 2014 with a second placing.