In a boon for the Tasmanian racing industry, Tasracing has successfully secured the first ever Australian Female Jockey Championship.
The event will extend the 2018 Luxbet Tasmanian Summer Racing Carnival (TSRC) from its traditional finale of Launceston Cup Day (Wednesday 28 February) to Wednesday 7 March for the Female Championship event.
Thanks to Tasracing's strong relationship with Australia's leading wagering and racing media operator Tabcorp, Sky Racing has been secured as the event naming rights partner.
Two representative jockeys from each state, and one representing the Northern Territory, will compete in four races at the Launceston night meeting on 7 March.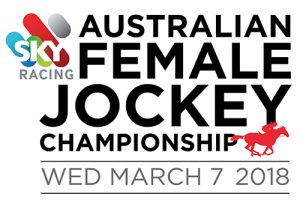 Tasracing chief executive officer Vaughn Lynch said it was fantastic to see mainstream sports recognising female participation, however this was something racing had practised for many years.
"Racing has led the way in enabling females to compete equally with males and it is a testament to some of the female trailblazers of our sport," he said.
"The race meeting, held on the eve of International Women's Day on Thursday 8 March, will provide us with an opportunity to celebrate and promote female participation in thoroughbred racing.
"Tasracing will leverage the opportunity presented by the first Female Jockey Championship to further increase interest in racing at a time when there is global exposure of thoroughbred racing in Tasmania thanks to the summer carnival, and wide international broadcast of Launceston night racing.
"Tasracing is also working on some exciting entertainment concepts for the night, which we hope will attract interstate and local racing fans to the Tasmanian Turf Club to soak up the action.
"Though females comprise under a third of total jockeys working in Australia today, there are more females getting involved as jockeys across the country.
"In Tasmania, there are six female jockeys, three of whom are apprentices racing every week."
Tabcorp Head of Media Communication Adam Hamilton said promoting diversity was important to Tabcorp.
"We're very pleased to support the first ever Australian Female Jockey Championship," he said.
"Our racing broadcaster, Sky Racing has provided career pathways in racing media for a number of female former jockeys.
"We currently have 11 women on air including former jockey Bernie Cooper who has been a leading presenter on Sky for a number of years.
"We're thrilled Bernie is playing a leading role in the inaugural Australian Female Jockey Championship and we applaud Tasracing on the fantastic initiative."
Watch Event Ambassador Bernadette Cooper and Tasmanian Representative Siggy Carr discuss the upcoming event: