The rich history of harness racing in New Norfolk is not only being retained but receiving a huge shot in the arm with track works at the Pacing Centre going ahead in leaps and bounds.
Steve Devereaux, CEO of the Tasmanian Pacing Club and his committee have led the initiative for the New Norfolk venue to receive maintenance to enable local trainers to resume use of the track for training purposes.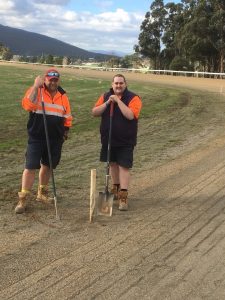 Tasracing staff have contributed a power of work toward the project which is resulting in a positive vibe among the New Norfolk harness racing community.
Trainers of the ilk of Roger Whitmore, Paul Hill, Sam Rawnsley, Justin Campbell and Juanita McKenzie have utilised the track over the years with a great deal of success.
"Everyone is delighted with the work being undertaken at the moment, the track and everyone associated with it has received a new lease of life," said Juanita.
"The boys from Tasracing's track team in Hobart have been up and are doing a great job.  They've graded the track, added new topping and run the track conditioner over it and have added new pylons.  It really looks a treat."
Juanita currently sits fourth on the Tasmanian Leading Trainer Premiership table, just one behind Rohan Hiller, and says the upgrading of the training complex will benefit everyone in 'the Valley'.
"We are very keen to get a club back up and running again so we can conduct race meetings in the future, but for now it's one step at a time. There is certainly a positive feeling around the place and the future is looking bright."
"We are all very grateful for the work that is taking place.  Steve and the TPC along with Tasracing have been instrumental in getting things moving in the right direction and the Council has also been supportive of the project," said Juanita excitedly.